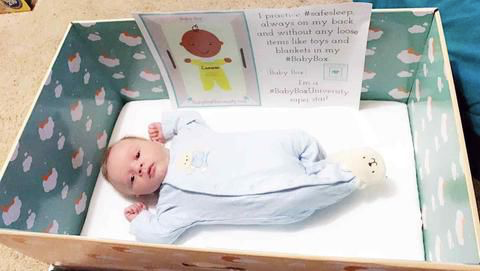 What is a Baby Box?
Erin Burt
Some say that Finland's low infant-mortality rate can be attributed to the baby box. The baby box is simply a cardboard box that includes a basic foam mattress that can serve as a safe place for an infant to sleep. The box may also be filled with several baby essentials such as clothing, diapers, and more. The practice of giving these boxes to new mothers in Finland started in the 1930s to give all babies an equal start to life, no matter what their background is.
Now, some American cities and states will be providing them to mothers as an attempt to reduce infant mortality and to teach safe sleeping practices with infants. For example, it is the hope that every baby that is born in Colorado this year will receive a baby box. The Baby Box Co. will donate boxes that will be distributed at healthcare centers across the state.
When I started to look for the answer to this question, I learned that the state that I live in currently has a program to provide a baby box to every baby born this year. I immediately told a good friend of mine that is due to have a baby next month and enlisted her help to get the inside scoop about the box.
How does someone get their hands on one of these boxes? First, my friend visited the Baby Box University website and joined online. She said she watched seven informative videos about safe sleeping for babies and breastfeeding and had to pass a short quiz. After passing the quiz, she received an online certificate of completion which she has to show when she redeems her baby box. She was given the option to choose a pick-up location close to her home or, if she wanted to wait two weeks and pay for shipping, the baby box could be delivered to her home.
She is looking forward to using the baby box as a safe place for her baby to sleep when the family spends time downstairs in her home.
Sarah Cole is a freelance writer in Colorado and mother of two young children.